---
Perfectly creamy Hummus
Ever wondered how to make the perfect hummus, creamy and smooth, at home? The recipe is pretty easy and straightforward, but you do need to follow a couple of things to make it just right.
Lucky as I am, I have a Palestinian friend (yes, I am talking about you, Shadia, of course!). A very passionate and terribly talented cook, that I had the pleasure to meet in one of my Cooking Groups from the International Cooking Club Singapore.
The Middle Eastern Cuisine is amazing, full of flavours, textures and spices. Shadia took me on a fantastic culinary journey to her roots (she is Palestinian born but grew up in Peru and after some years in Singapore, she moved to Germany) and shared with me not only this fantastic recipe for Hummus but also Babaganoush, Falafel, Fatayers (bread dough pockets filled with spicy spinach), Kibbeh (meat and bulgur snacks) and Labneh.
---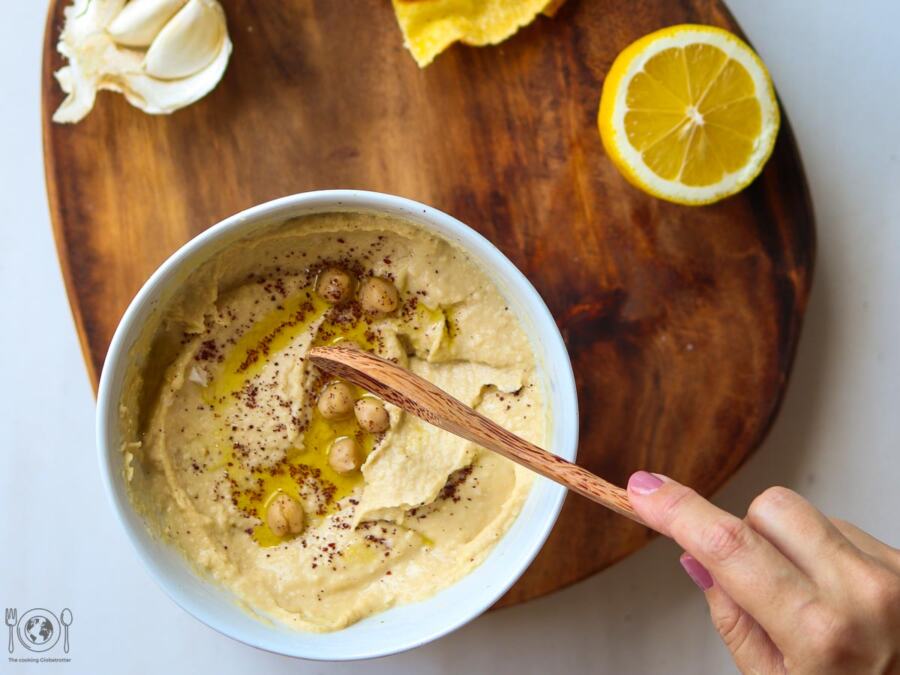 ---
Recipe for the best Hummus
Hummus Recipe
Find out the secrets for making a perfectly creamy and delicious Hummus, a simple middle eastern dip made with chickpeas and a couple more ingredients
simple
10 minutes

40 minutes

50 minutes
| | |
| --- | --- |
| 250 g | chickpeas, cooked |
| 1 | TBSP Tahini (sesame paste) |
| 1 | garlic clove |
| 1 | lemon |
| 1 | pinch of salt |
| 1 | tsp plain yogurt |
| | sumac (optional) |
| 2 | TBSP olive oil |
Steps of preparation
Prepare the chickpeas by soaking them overnight and then cooking them in water for 30-40 minutes or until soft. Once cooked turn off the heat and leave them in the cooking water, do NOT throw it away!
Chop the garlic clove (add more then one if you like) and squeeze the juice out of one lemon.
Keep 10 chickpeas on the side for decoration.
Use a good blender. A hand blender also does the trick.
Blend the chickpeas, garlic, a pinch of salt, tahini, 1-2 tablespoons of the lemon juice, 2-3 tbsp of the chickpeas cooking water, 1 tbsp of olive oil and 1 tsp of plain yoghurt. Taste and check the consistency, adjust salt and lemon juice and add water to make it more creamy.
Once you are happy with the results, transfer in a nice bowl.
Before serving decorate with the chickpeas, drizzle with good quality extra virgin olive oil and sprinkle with sumac.
Enjoy with bread, veggie sticks, in salads or wraps.
---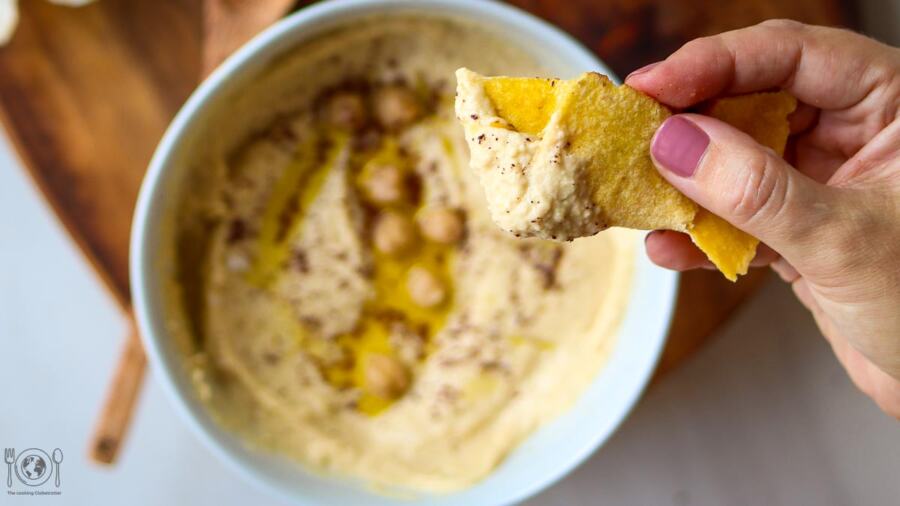 ---
How to make a creamy hummus
The recipe requires only a couple of ingredients and it's super easy, right? So what can possibly make the difference?! Keep reading to find out! Here come the tricks and tips for a perfectly creamy and smooth chickpeas hummus:
Use dried chickpeas instead of canned ones. – I know, I know, don't roll your eyes! It's really no big deal, you only have to soak them overnight and then cook them for approximately 40 minutes. It DOES make a difference in taste.
Did I convince you to use the dried chickpeas? Great! Be smart: double the amount! – Soak and cook the chickpeas and then store the extra batch (with the cooking water) in the fridge (for up to 1 week) or freeze it, so the next time you are all set!
Make sure the chickpeas are cooked through. – You want them quite soft. Depending on the brands, you might have to cook them longer. Never add salt to the cooking water, because this will make them hard.
Use a good powerful blender. – If you want a really smooth hummus, you need a good blender. I find a handheld blender (the one with the stick) usually better than many small devices. If you have a lot of hummus to make, divide it into batches.
Add a teaspoon of plain yoghurt. – This will give your Hummus creaminess.
Adjust salt and lemon juice as you go. – Some ingredients are more powerful than others, so it is important that you taste and add if necessary.
---
---
---