---
What are Cantucci?
Cantucci are double-baked almond biscotti, that are usually served with vin santo (a sweet liquor). They come from the city of Prato in Tuscany but can be found also in other Italian regions and even in Spain.
The almonds biscuits are obviously amazing dipped in vin santo, but also very yummy enjoyed with coffee, milk, cappuccino, chocolate milk or any wine or liquor. Cantuccini are very easy and quick to make, they don't need any butter or milk which makes them perfect for a dairy-free diet!
You can switch the almonds with any kind of nuts, even chocolate chip or dried fruits. A lovely Christmas version for those cookies is with pistachios and cranberries!
---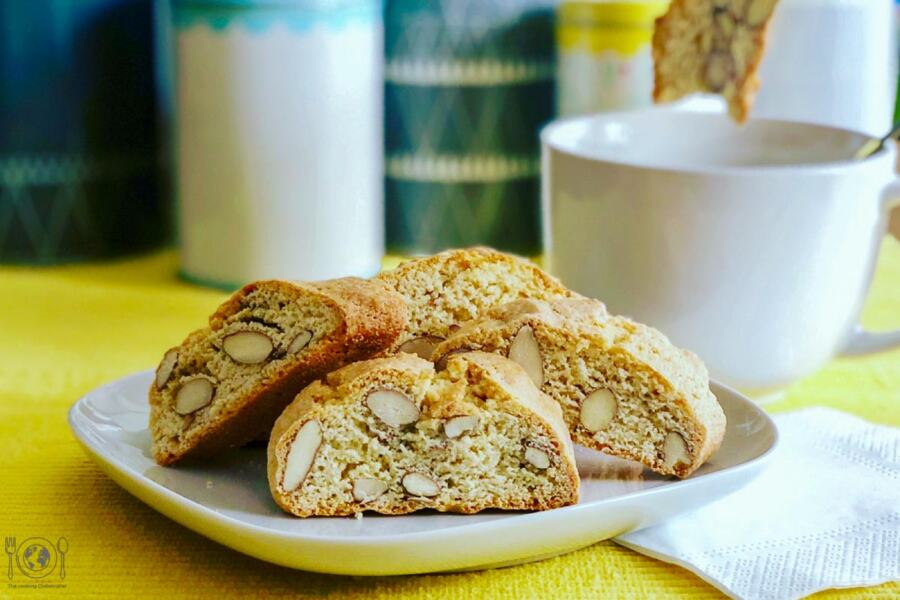 ---
Cantucci – almond biscotti original Italian recipe
Ingredients:
250g of flour
a pinch of salt
2 eggs
a splash of vanilla extract
150g of sugar
1 teaspoon of baking powder
100g of almonds (or chocolate chip cookies or cranberries and pistachios)
Instructions:
1. Mix 250g of flour with a pinch of salt and 150g of caster sugar.
2. Add 2 eggs and a teaspoon of good vanilla extract and mix well together.
3. Add 100g of whole almonds and 1 teaspoon of baking powder.
4. Make 2-3 long buns with a diameter of approximately 3 cm.
5. Bake in a preheated oven by 180 degrees for 25 minutes on baking paper.
6. Take them out and cut them with a sharp knife into slices (slightly diagonal) 1-2 cm wide – don't worry if you squeeze them a bit, they are not supposed to be pretty or perfect!
7. Spread them out on the baking paper and bake them again for 5 to 10 minutes, 5 making them crunchy, 10 making them really crunchy and only for dipping or really good teeth!
8. Make yourself a cappuccino or pour yourself a glass of wine and enjoy!
---
---
More recipes from my home country Italy
After last week's Ricotta and Spinach Quiche is this the second recipe of our Italian recipes series!
Don't miss out on the next recipes from my home country Italy, subscribe to the newsletter to receive them directly in your mailbox!
More recipes are available on my Instagram account. You can find me there as @thecookingglobetrotter
---